You are here: 首页 > Cities > Changchun > Scenic areas
Museum of the Imperial Palace of Manchu State (AAAAA-level scenic area)
China.org.cn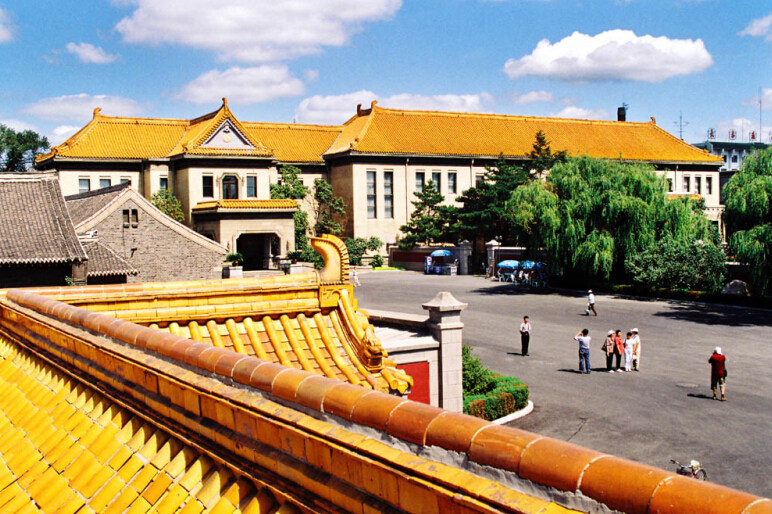 The Imperial Palace of the Manchu State was the official residence for China's last emperor Puyi to live in as the Emperor of the Japanese puppet state of Manchukuo. China preserved the ruins of the palace and opened it as the Museum of the Imperial Palace of Manchu State.
It is classified as a Class AAAAA scenic area and regarded as a global education base for reminding people of the negative effect of World War II.
The palace covers 137,000 square meters, containing dozens of buildings of different sizes. These buildings carry architectural tints embraced by modern and ancient Chinese buildings as well as foreign architectures. The architectural style is typical of the colonial period.
Side Hall
The Side Hall, the largest building in the palace, is where Puyi handled political affairs, lived and relaxed with his empress and imperial concubines.
Ticket fare
Through ticket: 80 yuan per adult, 30 yuan per soldier, college student and secondary school student, 20 yuan per primary school student, 50% discount for people aged 60 and above with valid certificates.
Transportation
Tourists can take No. 80, 264, 225, 114, 256, 276 or 287 bus to the scenic area.
Contact Number
0431-82866611
Website
www.wmhg.com.cn/zsh.htm
① Qinmin Building: The Qinmin Building was Puyi's office building where Puyi handled political affairs, held ceremonies, received guests, conferred meals to his government officials and observed sacrificial rites.
② Jixi Building: The Jixi Building was the private living quarter for the Emperor. When the puppet state was running, Puyi lived here with his Empress Wan Rong and the concubine Tan Yuling.
③ Huaiyuan Building: The Huaiyuan Building was named by Puyi based on a famous sentence in The Book of Rites: all people will yield to those who treat others favorably and will respect those who make feudatories not to provoke trouble. It not only contained the Fengxian Chapel where Puyi worshipped his ancestral portraits and memorial tablets but also housed the Imperial Secretariat, Office for Retinue and Military Officers and various inner palace departments.
④ Siheyuan: The Siheyuan was an important executive office implementing orders of Puyi where ministers, undersecretaries and some subordinates of them tackled official affairs.
⑤ Imperial Racecourse: The Imperial Racecourse is the best-located, highest-graded and largest ecological racecourse in northeast China.
⑥ Exhibition Hall for Showing Occupied History of Northeast China: The Exhibition Hall for Showing Occupied History of Northeast China is a demonstrative base for patriotism education open to tourists freely. The hall features the special exhibition "Never forget the 9/18 Incident ——historic facts of Japan's Invasion into Northeast China and exhibits over 1000 pieces of cultural relics, 1200 pictures and the originial audiovisual materials related to 14 themes. Multi-media inquiry system, on demand play system of anti-Japanese invasion songs and video display of historic materials are also available for tourists.