Transportation in Tonghua
China.org.cn, October 25, 2016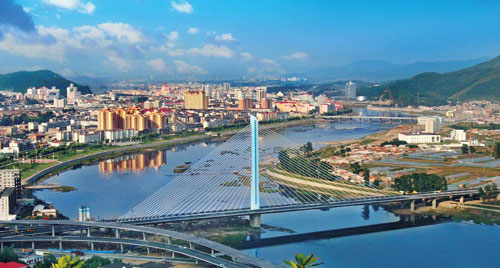 Flight
1) Changchun Longjia International Airport
2) Shenyang Taoxian International Airport
3) Changbai Mountain Airport, China's first tourist airport located in a forest
4) Sanyuanpu Airport in Liuhe County, Tonghua
Railway
Tonghua serves as the hub of the regional railway network, connecting Shenyang, Jilin, and Siping by Shenji Line and Simei Line through Meihekou, and the southern and northern part of Changbai Mountain by Meiji Line and Yada Line. These two lines also link with railway and highway of the Democratic People's Republic of Korea. Besides, Tonghua-Dandong Railway was opened in September 2012.
Hotline of the railway station: 0435-6123222
Highway
Tonghua Coach Station stands side by side with the local railway station on the Jianshe Street with a distance of about 300 meters in between. Three expressways linking Tonghua with Shenyang, Changchun and Dandong and one expressway linking Meihekou with Shenyang have been totally or partly opened. So was the expressway from Meihekou to Shenyang. Another two expressways starting from Tonghua to Ji'an and Jingyu are being built.
Hotline of passenger transport service center: 0435-3617233
Bus
There are over 40 bus routes in Tonghua city, covering all the city area and most part of its surrounding counties. Remember to take changes when taking a bus because most buses adopt a self-service ticketing system.
Taxi
Taxi in Tonghua city is charged by meter with a flag fall of six yuan and tourists can hail a taxi as it is approaching.