You are here: 首页 > Cities > Songyuan > Scenic areas
Winter fishing in Chagan Lake
China.org.cn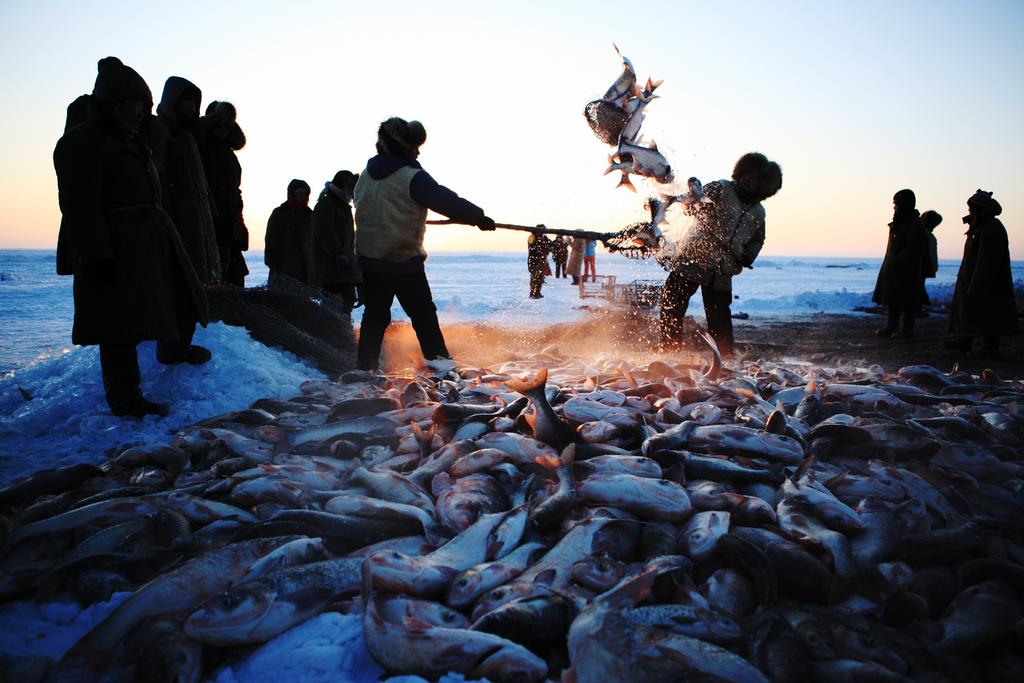 Winter fishing in Chagan Lake, praised as "leaping fish in an ice lake", is one of the eight best attractions in Jilin Province. It is the most spectacular activity in the annual Chagan Lake Ice and Snow Fishing Cultural Tourism Festival.
Winter fishing in the lake begins in late December and ends in late January. Annual fresh fish output from winter fishing is as high as a million kilograms. It set a Guinness World Record for a single net catch of 168,000 kilograms.
Winter fishing in Chagan Lake, which enjoyed a long history, thrived in the Liao and Jin dynasties. Every winter emperors of the Liao Dynasty went fishing together with his officials and concubines in the lake and had sumptuous fish dishes. They did not return until spring ended.
Chagan Lake has observed this tradition for over a thousand years. A ceremony with strong local features to offer sacrifices to the lake and mark the beginning of winter fishing is the most mysterious part of the tradition and represents the fishing and hunting culture of northern China. The ceremony consists of activities such as Chama Dancing, chanting Buddhist sutra, singing sacrificial words by the fishing leader, worshipping Father Sky and Mother Earth and the Lake God, and drinking to the good luck of fishermen.
Fishing industry experts call Chagan Lake "the last fishing and hunting tribe", "a land on the earth still in its original state as valuable as the Qinghai-Tibet Plateau" and "the one and only living culture relics of ice and now fishing and hunting above the 45th degree of Northern Latitude".
In 2004 winter fishing in Chagan Lake was listed among the "one hundred scenic wonders in China" by the Chinese Society for Urban Studies and written into the Blue Book of "Asia-Pacific International Ecological and Historical Wealth of High Value". In 2008 the activity was approved as a National Intangible Cultural Heritage by the State Council and the Chagan Lake scenic area was certified to be a National Intangible Cultural Park by the Ministry of Culture.