You are here: 首页 > Cities > Songyuan > Scenic areas
Longhua Scenic Area (AAA-level scenic area)
China.org.cn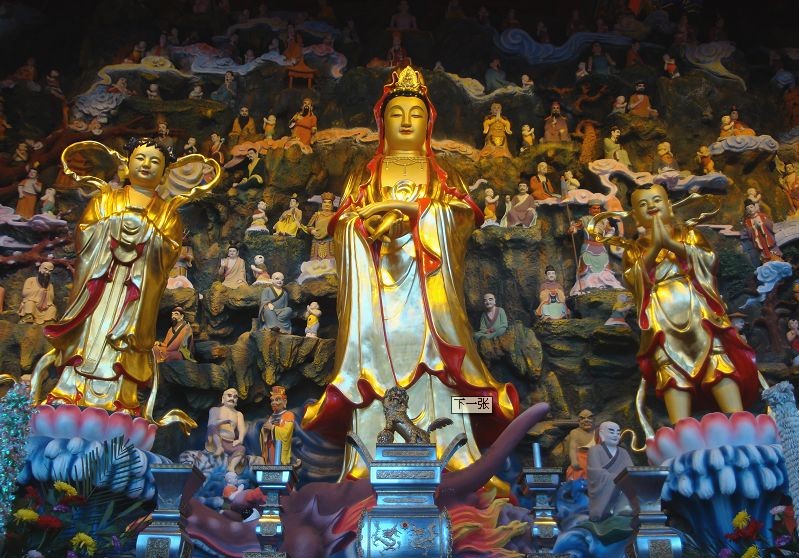 Longhua Scenic Area lies on the right bank of the beautiful Songhua River in Ningjiang Forest Park in Songyuan City, three kilometers from the downtown area. It consists of three parts: Longhua Cultural Park, Longhua Temple and Longhua Garden.
Longhua Park covers an area of 440,000 square meters, including such sights as music fountain, artificial hills, artificial lakes, river-viewing pavilion and sculpture corridor. The sculpture corridor is divided into four sections: the kindness garden, the children garden, the lovers' garden and the traditional virtue garden.
Built in 1905 and reconstructed in 1992, Longhua Temple covers an area of 106 hectares and is the Buddhist center in Songyuan. It is divided into a western part and an eastern part. The western part is mainly occupied by a group of religious halls and the east part by the Buddhist Academy and the Religious Discipline Hall, where Buddhist monks are trained.
The whole temple consists of 48 small courtyards with a planned construction area of 42,200 square meters. There are now more than 20 religious buildings, including the Hongfa Hall, the Nianfu Hall, the Dizang Hall, the Mediation Room, the Hufa Hall, the Gongde Hall, the Yaoshi Hall, the Yunshui Hall, the Bell and Drum Towers, east and west side halls, and the Main Hall.
The Main Hall, the core of Longhua Temple, is the largest of its kind in China, covering a total area of 13,700 square meters with a construction area of 10,000 square meters. It has double eaves and a hip roof. This is the highest-grade architectural style for imperial buildings in ancient China. The hall is a steel and cement structure modeled after the Hall of Supreme Harmony in a style typical of religious buildings in the Ming and Qing dynasties. Sitting on a three-layer platform, the hall is 63 meters wide, 46.5 meters high and 36 meters deep (five rooms), housing Buddhas which are all over 10 meters high. The hall is used for paying respect to Buddha, worshipping Buddha, Zen meditation and spiritual retreat. It can hold ten thousand prayers at the same time and the front and back squares outside the hall can hold tens of thousands of people for sermon and listening to sutras.
Ticket price: Free
Opening time:
 In summer 8:00-17:00
In winter 8:30—16:30
Parking lot: Free parking lot of 40,000 square meters in front of the temple.
Telephone: 0438-5073008
Transportation: There are shuttle buses to Longhua Temple, or Tourists can take a taxi.
Self-driving: Start the two-hour drive from Changchun along Huichun-Ulanhot Expressway by way of Nongan County and get off at the Songyuan East Exit.