Transportation in Yanbian
China.org.cn, October 26, 2016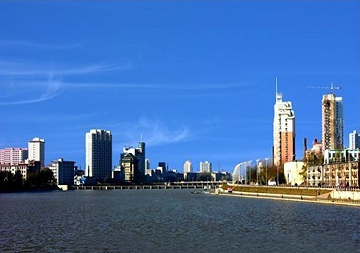 Flight
Yanji Airport handles1 million passenger trips a year, ranking the fifth in Northeast China, after provincial capital Changchun and sub-provincial cities of Shenyang, Dalian, and Harbin. Yanji Airport has direct air routes to the four above-mentioned cities, as well as Beijing, Tianjin, Qingdao, Yantai, Shanghai, Guangzhou and Shenzhen in China, and Seoul and Pusan in the Republic of Korea. There are chartered tourist airplanes from Yanji to Pusan, Cheonju, Daegu, and Cheju of ROK, and to Pyongyang of the Democratic People's Republic of Korea, and Vladivostok of Russia.
Railway
The rail line from Changchun and Tumen, which has several stations in Yanbian, is the principal railway service in autonomous prefecture. Tourist trains to Jilin City, Changchun, Shenyang, Beijing, Shanghai, Qingdao, Dalian, Harbin and Mudanjiang are available. Railway transport is the main channel for tourists coming to Yanbian.
Highway
Yanbian has two national highways, the east-west G12 from Hunchun to Changchun, and the north-south No.201 from Hegang to Dalian. The two highways cross at Yanbian, whereupon a railway network has been formed. There are also four tourist highways between tourist hub Yanji and tourist destination Changbai Mountain, forming some ring roads. Yanbian has eight road ports, one to Russia and seven to the North Korea. Yanbian has opened nine tourist lines on its borders with the two countries.
Bus
Yanji has 51 lines of buses. The one-way bus fare is 1 yuan ($0.15).
Taxi
The starting fare of Yanji's taxi is 5 yuan (for the first 3 kilometers or within), and the fare for every kilometer beyond 3 km is 2.7 yuan per km.