Ski resorts in Jilin
China.org.cn, November 11, 2016
Beidahu Ski Field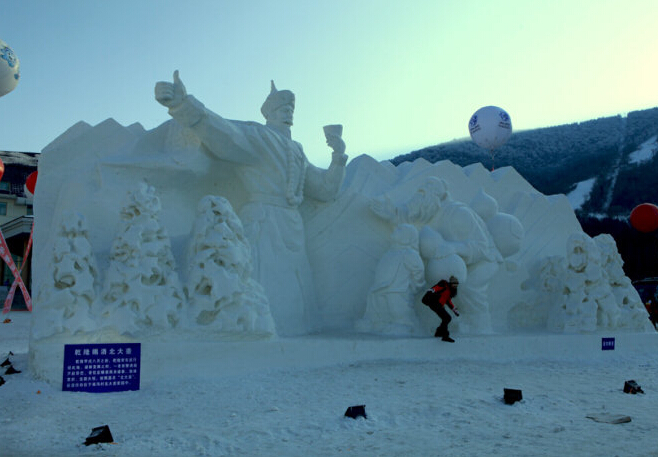 Beidahu Ski Field, located in the Beidahu Town of Yongji County, Jilin City, is 56 km to the downtown and 141 km to Changchun. Built in 1993, it is the ski field biggest in scale, most advanced in facility and best in natural resources in China. It is also a significant ski base and ice and snow sightseeing center.
With the advantaged terrain and snow resources, the Beidahu Ski Field is surrounded by mountains on three sides. The altitude of nine peaks is above 1,200 meters. The mountains block the wind in winter, keeping the snow-covered landscape nicer and longer. Snow time lasts from late October until early April next year. More than 100 days in a year are good for skiing. There are 13 alpine ski runs with their total length reaching 12.5 km. A 2,200-meter high speed 6-person carriage cableway and a 1,000-meter high speed 4-person carriage cableway have been newly imported together with internationally advanced snow-making equipment, increasing the snow-making capacity by 32 hectares.
The ski field has two hotels with 204 guest rooms containing 600 beds. There are other facilities including restaurants, café, karaoke, bathing center, business center, telecommunications, post office, satellite TV, etc. Its daily reception capacity is 2,000 skiers and can accommodate 600 people.
Ticket Price:
Transportation:
It is 53 km from Jilin City, 141 km from Changchun and 120 km from the Longjia Airport.
Self-driving:
Changchun – Changchun-Jilin Expressway – Jilin – Inter-City Highway – Kouqian – Zhuanshu Gongli – Beidahu Resort
Special tourist bus and public bus:
Start off at the Jilin Station at 8:30 and return at 15:30 from Beidahu.
Website: www.Beidahuski.com