Liaoyuan spring outing festival to open in late April
China.org.cn, April 13, 2017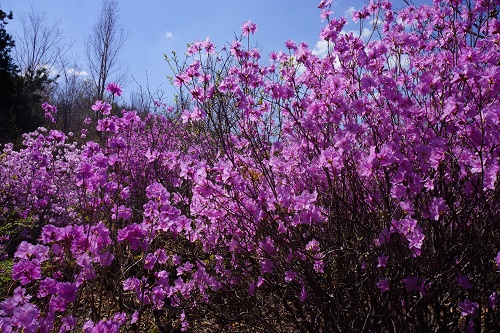 Liaoning Spring Outing and Fresh Fish Tasting Festival will kick off on April 26, it was announced Tuesday at a press conference.
Apart from the main venue in Liaoyuan City, there are also three branch venues in Dongfeng and Dongliao counties and Longshan District.
Activities include fruit picking, hiking, pinwheel spinning and tasting the first fishes after the frozen river thaws.
In addition, Liaoyuan will roll out many tourism products during the festival such as one-day and two-day tours and self-driving tours. The products, as well as travelling tips, vary in line with seasons.
Liaoyuan, a rising leisure city in south-central Jilin Province, features eco and leisure tours such as country tours, folk custom tours, cultural tours, red tours and gourmet tours.
Liaoyuan has profound culture related to Sika Deer Paddock, religion, folk customs and industry. It also boasts red culture and folk art.
Liaoyuan holds on to the notion of "greater tourism,"which combines tourism development with culture, agriculture, forestry and water conservancy.
Apart from current tourism products like the flower sea in Dongfeng New Urban Area, Cilu Lake and Julong Pond, Liaoyuan will make greater use of its geographical position as the origin of the East Liao River.
It will strengthen collaboration with other cities in the East Liao River basin and contributes to the development of the collaborative zone formed by Liaoyuan, Siping, Tieling and Tongliao.
The city will design summer tourism products featuring its pleasant cool temperature in the Imperial Deer Yard and endeavor to host tourism events of national influence.
The city also plans to offer compound tourism products integrating sightseeing, heath preservation, leisure, entertainment and delicious food, country tours featuring distinctive country culture and landscape, farming experience, fruit and vegetable picking and vacationing.
The local government will encourage tourism enterprises to spend more in improving infrastructure and introduce modern, standard and people-first design concepts so as to provide better and easier services to tourists.
Recommended tours in Liaoyuan:
One-day tour:
1. Dading Mountain Natural Scenic Area (azalea appreciation)—Xiaosiping Town (apple blossom appreciation) –Forest Mountain Resort (Tasting first fishes after the river thaws)
2. Cilu Lake outing (flower appreciation and picking edible wild herbs)-Cilu Lake Siji Orchard (strawberry picking)-Cilu Lake Bapukang (Tasting Wild Fish caught immediately after the frozen river thaws)
3. Yide Mountain Resort-Guda outing-Guda Mountain Resort (eating roasted whole lamb and tasting wild fish caught immediately after the frozen river thaws)
4. Weijin Town Sanxing Strawberry Picking-Baidai Farm (tasting wild fish caught immediately after the frozen river thaws)
5. Dongliao County Folk Custom Museum-Julong Pond Mongolia Yurt (tasting wild fish caught immediately after the frozen river thaws)
Two-day tours:
1. Mayi Reservoir Park (tasting wild fish caught immediately after the frozen river thaws)—Jiancheng Zoo and Botanical Garden (staying overnight)-Dongfeng Farmers' Painting Gallery—Dading Mountain Natural Scenic Area (azalea appreciation) -Xiaosiping Town (apple blossom appreciation)
2. Cilu Lake outing (flower appreciation and picking edible wild herbs)-Cilu Lake Siji Orchard (strawberry picking)-Cilu Lake Bapukang (Tasting Wild Fish caught immediately after the frozen river thaws)-Yixiang Folk Art House – stay overnight at a starred hotel – Teenage Safety Education Museum-Kuixing Tower (Fushou Temple)