'Summer in Changbai Mountain' Cultural Tourism Festival opens
By Yuan Fang

China.org.cn, June 13, 2017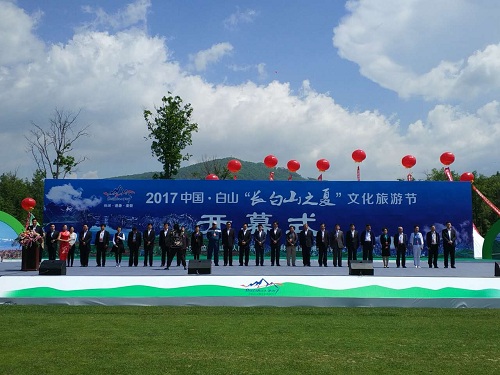 The 2017 "Summer in Changbai Mountain" Cultural Tourism Festival opened at Wanda Changbai Mountain International Resort in Baishan City, Jilin Province on June 9.
A total of twenty-six distinct major activities will be staged during the three-month festival for people to experience the appeal of Baishan as a leisure, cool summer vacation destination.
A number of senior officials of Baishan and Jilin governments attended the opening ceremony.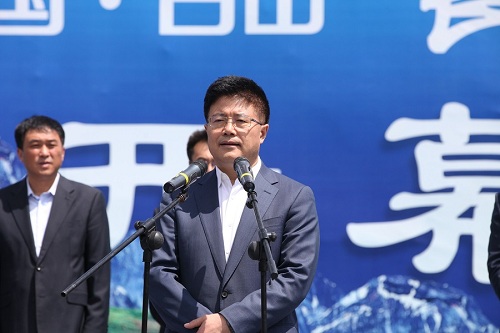 Baishan, located in the core area of Changbai Mountain, has a wonderful ecology and fresh air. Its forest coverage rate exceeds 83 percent. The Songhua and Yalu rivers flow through the city.
Baishan also has abundant world-class resources such as mineral water, ginseng, tourism, kieselguhr and basalt. Their development potential is huge.
Furthermore, the city boasts a long history and rich cultural resources relating to its ecology, specialties, folk customs and revolutionary history.
In recent years, Baishan has been keen on green development. It has spearheaded efforts in east Jilin to transform the economic growth pattern and strived to build itself into a national demonstrative area for ecological progress.
The municipal government pays high attention to environmental protection, believing that lush mountains and lucid waters, along with ice and snow, are as valuable as gold and silver. As a result of such thinking, tourism has been set as a pillar industry.
The city received 9.04 million domestic tourists in 2016, up 16.77 percent over last year. Tourism revenue that year rose 25.35 percent year on year to 12.6 billion yuan.
"The 'Summer in Changbai Mountain' Cultural Tourism Festival is of great importance in developing eco tourism and ice and snow tourism in Jilin and in promoting Baishan's image as a tourist destination," said Zhang Zhijun, an official of Baishan City.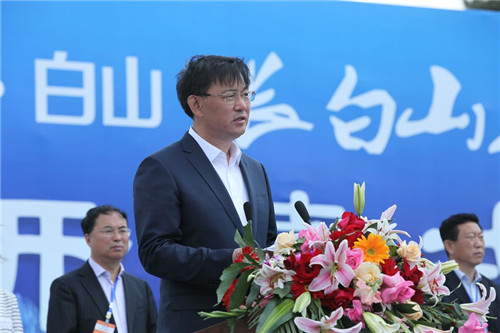 With eye-catching progress in recent years. Jilin's tourism industry is on the fast track to becoming the province's fourth largest pillar industry, according to Wang Ku, an official of Jilin Provincial Tourism Development Committee.