Eight examples of pursuing high-quality tourism development in Jilin—Jilin Dongfu Group
China.org.cn, 05 31, 2018
Editor's note:
Jilin province has been pursuing high-quality tourism development in recent years, aiming to make tourism a new pillar and driving force for its economic growth. The segments it is particularly ambitious in are eco tour and ice and snow tour with a goal to become a world-class destination for such tours. Meanwhile, it is also vigorously developing summer tour and border tour. Against this background, the province called a conference in Changchun on May 22 where eight case studies offered fresh, inspiring insight into how high-quality tourism growth could be achieved in the province. We will introduce the eight cases one by one. The case for today is Jilin Dongfu Group.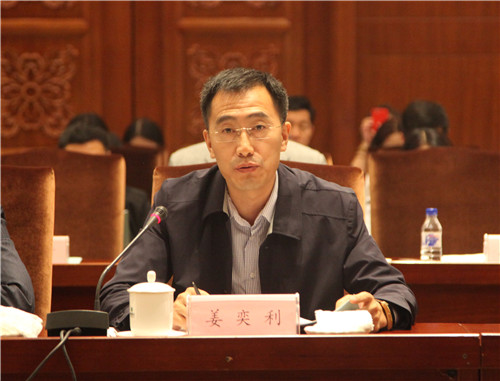 The rural vitalization strategy was put forth at the 19th National Party Congress to build rural areas with thriving businesses, pleasant living environments, social etiquette and civility, effective governance, and prosperity. The Dongfu group strives to meet these general requirements and to form a new development pattern of all-for-one tourism, being closely linked to the fight against poverty.
The group promotes the construction of projects to help the upgrading of rural tourism industry. The first phase of Shennong park with investment of 480 million was recognized as AAAAA rating rural travel corporation. With the tourism consumer market changing continuously and the corporation growing steadily, the second phase has been invested 280 million. At present, its flagship has been launched with the total investment of 1.7 billion yuan. Three large projects of Jilin Folk and Cultural Street, China North Museum and Shennong Hot Spring Longevity Village have been completed and put into operation.
The group imbues the rural tourism development with deep-going cultural and local traits, and stresses five dimensions including the farming, hot spring, folk customs, ice and snow, and sea, to promote the rural tourism to a higher level. For instance, China North Agricultural Museum displays the processes of agrarian revolutions in different historical stages in China, and contents of sowing in spring, growing in summer, harvesting in autumn and storing in winter. The rich history of agricultural civilization is not only brought to the care of rural tourism, but also to that of all-for-one tourism. The museum has become the education and research base for middle and elementary school students in Jilin city, and is applying for the social practice and cultural experience base for foreign students getting China's government scholarships.
Endeavors have been pooled to expand the channels for increasing the income of farmers. The group has employed over 600 farmers in its various projects such as the Shennong Hot Spring and botanical park. Their average annual income was 28,000 yuan. Over 100 farmers started their own business in the Jilin Folk and Cultural Street and have average annual income of about 200,000 yuan.
The group will construct itself a leading corporation with fusion development of primary, secondary, and tertiary industries in order to build an important town of tourism.
Agriculture, rural areas, and rural people directly concern our country's stability and our people's wellbeing. The group strives to develop the rural tourism industry.