You are here: News >
​Jilin to become pacesetter for China's ice and snow economy
China.org.cn
Jilin province, located at the world's golden latitude zone for ice and snow resources, is one of the earliest Chinese provinces to develop ice and snow sports and the ice and snow industry.
The province's winter views and activities enjoy great fame worldwide like the snow scenery on Changbai Mountain, the rime scenery along the Songhua Lake and winter fishing on Chagan Lake. It also leads the country in terms of achievement in competitive ice and snow sports and the level of public participation in ice and sports. In this context, its ice and snow industry is seeing robust growth.
In recent years, by seizing the opportunities brought about by the Beijing Winter Olympics, the dual-circulation development architecture and rural vitalization, Jilin is vigorously pursuing a high-quality ice and snow economy to tap into its "cold resources" for economic growth and set pace for China's ice and snow economy.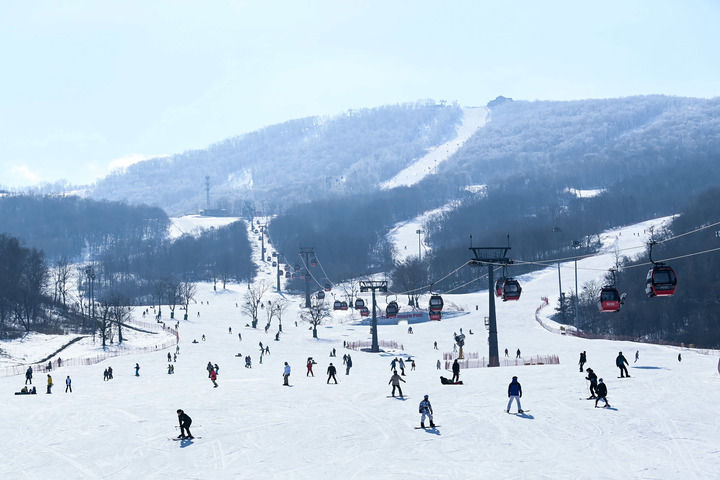 Beijing Winter Olympics
On March 4, one of the Beijing Winter Olympics-themed passenger planes, "Winter Olympics Sports," arrived in Changchun city to mark the 100-day countdown of the 2022 Beijing Winter Paralympics. Onboard the plane were over 40 people, including staff members of the Organizing Committee of the Beijing Winter Olympics, invited to experience and promote ice and snow sports and give ice and snow sports lectures in Jilin.
Earlier in 2020, "Winter Olympics Ice and Snow," also a Beijing Winter Olympics-themed passenger plane made a similar trip to Jilin.
Jilin is called an ice and snow province. Over the past 40 years, it has produced three Winter Olympic champions, Zhou Yang, Li Jianrou, and Wu Dajing, as well as a number of ice and snow sports stars like Ye Qiaobo, Chen Lu, and Li Jiajun. Changchun alone has seen more than 200 of its winter sports athletes join national teams and win 3 gold medals, 10 silver medals and 9 bronze medals in the Winter Olympics. At the upcoming 2022 Winter Olympics, athletes from Jilin such as Wu Dajing and Qi Guangpu are highly expected to deliver good performances.
However, in comparison with the achievement in competitive ice and snow sports, public participation in ice and snow sports in Jilin seemed to be lagging behind. Although located in the same golden latitude zone for ice and snow resources as the Alpes and the Rocky Mountains, Jilin has a temperature much lower than that of Stockholm and Helsinki that have a higher latitude and its residents preferred to stay at home to keep warm.
The low level of public participation in ice and snow sports was also in part due to limited ice and snow sports facilities and high prices.
Despite its great natural advantages (from rare rime scenery, winter fishing to a 8-month snow season at Changbai Mountain), years of experiences in hosting high-level sports competitions, and the various festival activities being held for over 10 years in many parts of the province, Jilin's ice and snow industry used to impress people as crude, scattered and lacking variety.
But now, Jilin has become a popular destination for ice and snow tourism in China with over 40 of the country's more than 700 ski resorts located in the province. At present, Jilin leads the country with a total of 1,050 hectares of ski slopes and 41 aerial ropeways.
During the 2019-2020 snow season, the three large ski resorts in Jilin - Vanke Songhua Lake, Jilin Beidahu, and Wanda Changbai Mountain - received 1.13 million visitors, accounting for 43.96 percent of the total reception of large ski resorts in China.
The changes, while being a result of long-term accumulation of ice and snow resources and the release of their potential, should most importantly be attributed to the opportunities brought about by the Beijing Winter Olympics.
"I never expected a city to have 12 ski resorts," said a tourist from New Zealand.
The last time he came to Jilin city for skiing was in 2008 when transportation was bad and there was only one ski resort that was poorly equiped. Besides, nearby food and accommodation were very limited.
"Coming to this city again, I feel changes everywhere."
The feeling of this foreign tourist attests to the changes that have taken place in Jilin's ice and snow industry from extensive to intensive growth, from scattered to integrated growth and from attracting a small tourist group to the general public.
Cities like Changchun began to explore the internationalization of its ice and snow resources as early as the beginning of the 21st century. The Changchun Jingyuetan Vasaloppet, introduced from Sweden, has been held for 19 years in a row, not only providing free cross-country ski training for more than 700,000 college students but also turning competition events into important platforms for economic and trade cooperation.
When the International Olympic Committee announced in 2015 that the 2022 Winter Olympics would be held in Beijing, Jilin quickly started to re-examine its advantages for developing the ice and snow industry including natural resources, geographical factors, and industrial bases and released a document entitled "Implementation Instructions on Enlarging and Strengthening the Ice and Snow Industry".
The supportive policies have brought out the internal strength of the ice and snow industry, helped attract investment from outside Jilin, and draw the International Ski Federation, the International Skating Federation and many domestic and international ice and snow sports teams.

To answer the call of "300 million people participating in ice and snow sports," Jilin has implemented a program for one million students to participate in ice and snow sports in recent years. Under the program, 557 schools featuring ice and snow sports have been completed and the first week of the winter vacation has been set as the "snow vacation."
According to Li Xiaojie, director of the Changchun Sports Administration, Changchun spends 1.2 million yuan from the sports lottery charity fund every year to support the development of ice and snow sports in county- and district-level schools. The number of charity ice rinks in Jilin city has grown from 6 to 135 over the past 7 years, and the number of people participating in ice and snow sports has increased from 100,000 to 1.7 million.
"Watch Winter Olympics in Beijing, and Experience Winter Sports in Jilin" is a slogan launched at the Jilin Ice and Snow Industry Expo (Jilin Snow Expo) to attract both domestic and international tourists. As China's first snow-themed expo, the event has been held for 5 consecutive times since 2016, and attracted nearly 2,000 exhibiting brands from 27 countries and regions as well as 15 Chinese provinces. On-site transaction volume amounted to 750 million yuan.
With the Beijing Winter Olympics as the external driving force and the Snow Expo as the internal driving force, Jilin's ice and snow industry has formed a "3 (ice and snow tourism, sports and culture)+X (equipment manufacturing, talent training, commerce, transportation, etc)" structure.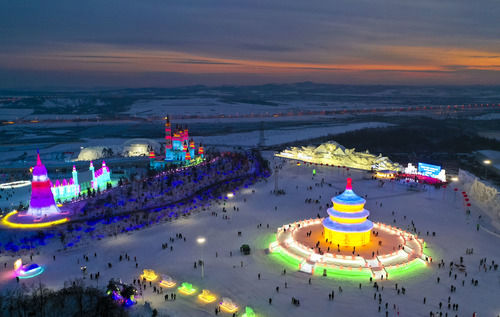 Dual-circulation development architecture
Located at the same golden latitude zone for ice and snow resources as the Alpes and Rocky Mountains, Jilin, which used to be slow to realize the value of its quality powder snow, has been quickening the pace of expanding its reach in the international ice and snow market and exploring the building of an "Ice and Snow Silk Road."
It plans to smooth the channel for cooperation with countries and regions along the "Ice and Snow Silk Road" by organizing the "Ice and Snow Silk Road Cup" tournament, issuing co-branded cards, and establish a think tank of international experts on the development of ice and snow industry.

As of 2020, 28 Chinese provinces have announced plans to develop ice and snow sports, tourism, and economy and this has boosted the construction of related infrastructure, expanded the size of the ice and snow industry, increased investment in ice and snow equipment manufacturing and personal products, and stimulated domestic ice and snow consumer market.
The "300 million people participating in ice and snow sports" call has led to a sharp increase in the number of ice and snow tourists, as well as a domestic circulation featuring south-north connection all year round. Jilin sees this as an important opportunity for high-quality ice and snow economic development.
"Under the dual-circulation concept, we have set the dual goals of 'integrating into the domestic circulation to lead the new era of the ice and snow industry in China' and'integrating into the international circulation to start a new pattern of ice and snow opening up in Jilin'," said Yang Andi, head of the Jilin Provincial Department of Culture and Tourism, noting the two goals will further release the advantages of Jilin's ice and snow resources, help Jilin build a modern ice and snow economic system, and provide innovative momentum for the revitalization of the old industrial bases in northeast China.
Among the three trillion-yuan target industries listed in the "14th Five-Year Plan" of Jilin, tourism ranks second only to automobile.
For Jilin's rising ice and snow economy, the 2020-2021 snow season should have been an opportunity to further strengthen its advantages, but the resurgence of the COVID-19 epidemic early 2021 dealt another blow after the one in early 2020.

Before the start of the 2020-2021 snow season, a pattern of "Snow in the East and Ice in the West" has taken shape in Jilin: in east Jilin, there is the Changbai Mountain Snow Economic Zone which has abundant powder snow; in west Jilin, there is the ice economic zone featuring winter fishing on Chagan Lake in Songyuan and Momoge in Baicheng; in central Jilin, there is the ice and snow dual function economic zone in Changchun and Jilin cities featuring 16 ski resorts and more than 200 ice rinks. The Changchun Ice and Snow New Land, built to match the Harbin Ice and Snow World, has become a popular tourism destination on the internet in the past two years. With 142 large ice structures, it is the first of its kind in Jilin and constitutes a new growth point for the province's winter night economy.
Due to the impact of the epidemic on outbound tourism, a number of ski enthusiasts have chosen Jilin as their destination for the 2020-2021 snow season. Many scenic spots saw tourist peaks as soon as they opened their doors.
In less than a month after the opening of the snow season in November, Spring Festival hotel and ticket reservations for some ski resorts like Vanke Songhua Lake, Jilin Beidahu and Wanda Changbai Mountain have become very difficult. During the Fifth Jilin Snow Expo held in December, the China Tourism Research and Design Institute optimistically predicted that during the 2020-2021 snow season, the number of ice and snow leisure tourists in China will reach 230 million, and the income from ice and snow leisure tourism will exceed 390 billion yuan.
However, the resurgence of the COVID-19 epidemic in northeast China early this year dealt another heavy blow to the ice and snow economy. The Tonghua Jinchang Ski Resort was forced to close less than a month after it opened. The winter fishing festivals in Songyuan, Baicheng and other places were either ended early or cancelled directly.
According to Yang Rongzhen, director of the Tourism, Culture and Sports Industry Development Center of Changbai Mountain Protection and Development Zone, at the beginning of 2021, local average daily tourist reception quickly dropped from three digits to one digit and on January 30 there were only two tourists on the northern and western slopes of Changbai Mountain.
Most ski resorts struggled to open, but generally could not make ends meet. Take Jilin city's Beidahu as an example. In December last year, the number of tourists was nearly 180,000, but it fell to 90,000 in January this year. The hotel occupancy rate and the average daily income of the ski resort also dropped from 90 percent and one million yuan to 10 percent and 100,000 yuan. Its estimated loss for the season is 130 million yuan.
"Last year, the epidemic dealt a devastating blow to ice and snow tourism, and this year ski resorts are striving to remain open," said Wang Mingchun, deputy director of the Jilin City Bureau of Culture, Broadcast and Tourism.
Since January, only a few of the more than 100 travel agencies in the city remained open, but received no tour groups from other provinces. Meanwhile, the short trips made by locals or nearby residents cannot boost hotel and catering consumption significantly, Wang explained.
To offset the impact of the epidemic, Jilin's cultural tourism and sports departments have adopted a slew of remedy measures such as financial subsidies, tax cuts and fee reductions, and issuance of ice and snow consumption coupons.
For businesses, these measures may not be enough to make up for losses, but have helped lay the foundation for further strengthening the ice and snow economy in the future from the perspectives of optimizing business environment, building the relationship between the government and business, and studying industry trends.
The industry is generally optimistic about the future, believing that the long-term future is promising after the short-term pain.
"What the government has done for us is very warm and we now have more confidence in the future," said Liu Xiaoshan, chairman of the Beidahu Ski Resort.
"Despite the losses these two years, our confidence in investing in Jilin's ice and snow industry and in building new landmarks for ice and snow tourism in Jilin will only increase instead of decreasing," said Jiang Licheng, chairman of Jilin Construction Group.
At the Changbai Mountain Tourism Investment Promotion Conference held in Beijing on March 14, Geng Deyong, head of tourism, culture and sports of the Changbai Mountain Management Committee, introduced that Changbai Mountain, a destination featuring three-season snow scenery, will launch a series of "Spring Snow on Changbai Mountain" cultural tourism activities this year. With the activities, the committee hopes to seize the opportunities for pursing a high-quality ice and snow economy and display its business environment, services and development potential so as to bring in more quality resources to Jilin.
Rural tourism
Shulan used to be an obscure county in Jilin, and Erhe village, about 50 kilometers southeast of the county seat, used to a very ordinary mountainous village.
Wu Qingrong has been married to Erhe village for over 20 years. For many years, Wu tried very hard to get rid of her rural life because of scarce arable land and meagre income. She made many attempts including opening a massage parlor and a restaurant. She even got training as a nursery teacher and learned cross-stitches.
This type of life continued until 2016 when Wu finally settled her business in Erhe village.
That year, Shulan county started a "Jilin Snow Town" tourism project in Erhce village to vitalize the village with ice and snow tourism products that integrate snow scenery, icefalls, homestay and folk customs.
With the project, roads in the village widened, street lamps were erected and the whole village got a facelift. Wu, who repurposed her rural house for homestay services, also benefitted from the project.
According to Lu Caishu, a village official, villagers who are good at doing business can make 30,000 to 40,000 yuan each snow season.
Some 40 kilometers away from the"Jilin Snow Town" project is the "Ice Town" project featuring ice sculptures and ice rinks in Nanyangtun, Sihe village, also in Shulan county. Most of the 102 households in Nanyangtun have experiences doing business or working in Russia. In recent years, villagers who have made money in Russia came back home to build Russian-style buildings for homestay businesses. The businesses are all given Russian-style names like"Pushkin Manor", "Volga Restaurant" and "Don River Pub." Featuring ice and snow and Chinese and foreign elements respectively, Nanyangtun and Erhe village have make Shulan a popular rural tourism destination online.

Meanwhile, the improvement of farmers' living standards and the faster pace of rural modernization have released considerable consumption and investment demands. In addition, urban residents' demand for high-quality agricultural products, rural leisure tours, and eco-tours has been increasing, constituting a strong boost on the supply side. In this context, rural tourism attractions across Jilin have bloomed with different characteristics in both eastern Jilin featuring snow tourism and western Jilin featuring ice tourism.
To name a few here:
The areas between Shihu village, Qingshi town, Ji'an city to Gumaling village, Dalu town, Ji'an city have become a world-famous "ice wine river valley zone" for the 21,000 mu of grapevines grown there along the Yalu River.
Jinjiang village in Manjiang town, Fusong county is known as the "Last Wooden House Village in Changbai Mountain" for the more than 30 Manchu wooden houses preserved there.
The Manchu Town, Wula Street in Longtan district, Jilin city is rich in rime and the keyword netizens use to search for it is "rime island."
Between the two cities of Changchun and Jilin, which are only 80 kilometers apart, there is a "hot spring belt." Shengde Spring, Zhuoyuan and many other rural attractions featuring hot springs in ice and snow settings are located there.
Yang Andi, head of the Jilin Provincial Department of Culture and Tourism, introduced that in recent years, Jilin has tapped deeply into the potential of its natural and folk customs endowments and launched rural tourism products that integrate history, ethnic elements and culture to bring life into once sleepy villages, get villagers busy in the winter, and give an opportunity for villagers who go away from home to work to make money at home.
"Rural tourism is not only a new means of increasing farmers' income but also a new engine for the development of Jilin's ice and snow industry," Yang said.
Infrastructure was once a serious handicap for the development of rural tourism in Jilin.
Since 2016, the province has arranged a total of 23.3 million yuan from the provincial tourism industry development special fund to renovate toilets and lighting facilities and give old villages facelift.
For example, an abandoned reservoir near Wuxing village, Kuancheng district, Changchun city, was once a foul-smelling marsh. In 2016, the village converted it into a water park and in the winter the park will become an ice park for various ice activities like ice go-carts. The project has become an important driving force for the village economy.
Besides, Jilin has been vigorously developing transportation infrastructure to support rural tourism. Efforts focus on improving transportation for the tourism double loops as well as public transportation.
For example, the Jilin-Tumen-Hunchun high-speed railway, launched in 2015, was praised as "the most beautiful high-speed railway in northeast China." In 2020, the Shenyang-Baihe high-speed railway also broke ground. Starting at the foot of the Changbai Mountain, the railway will connect directly to Beijing, Tianjin and Hebei in the future according to plans and even leads directly to the Shandong Peninsula and the Yangtze River Delta through the Yanda Subsea Tunnel, forming another "super transportation passage" for Jilin's ice and snow industry.
The ice and snow economy has helped vitalize Jilin's rural areas, enabling more and more farmers to have a new and sustainable means to increase income, in addition to modern agriculture with the help of e-commerce during the slack farming season.
Though the epidemic last year and this year have cooled down the peak seasons of ice and snow tourism in Jilin's rural areas, farmers are mostly optimistic about the future market.
Even before the snow season ends, Wu Qingrong had already planned to expand her houses for homestay services in the "Jilin Snow Town."
"Next year will definitely be better than this year, and the future will get better and better," she said.
(translated from an article on Economic Information Daily)