You are here: News >
​Jilin's public libraries hold book exchange fair
China.org.cn
To celebrate the 26th World Book Day, which falls on April 23, the Jilin Provincial Library, together with another 11 public libraries of Jilin, held a book exchange fair on the day.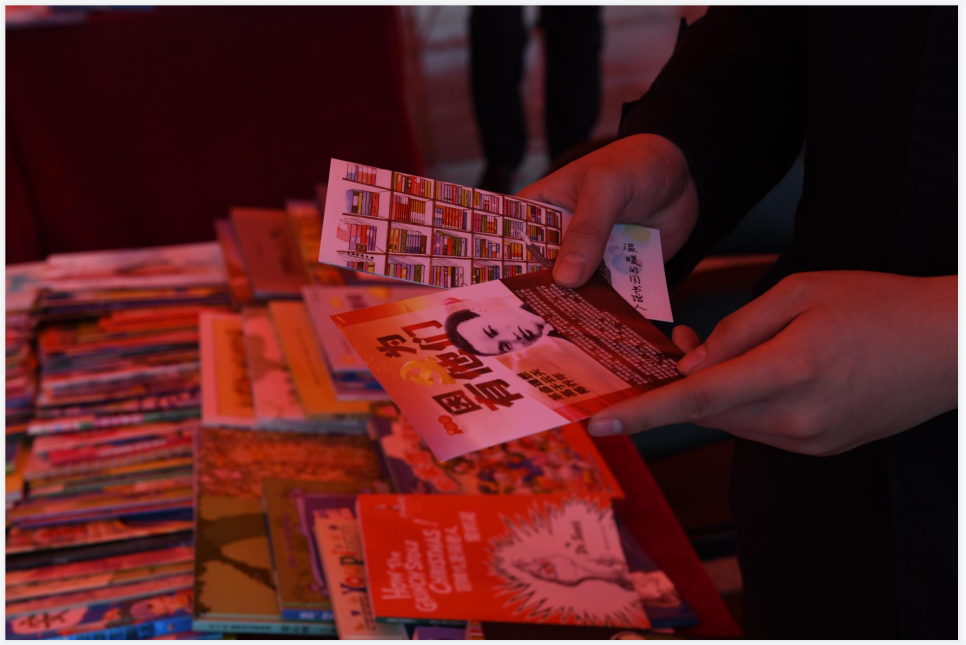 The fair attracted a big number of book lovers with books available covering a wide range of topics, including economics, social sciences, literary classics, and children's picture books.
Everyone who exchanged books at the fair could get a card randomly given out by the Jilin Provincial Library that either told the brave story of a martyr or introduced the touching deeds of an outstanding person living at the current time.

Those who donated book at the fair got ingeniously designed bookmarks by the library.
Ms. Zhang and her daughter went to the fair together and they both got the books they liked.
"This is the fourth time I have been to the book exchange fair of the Jilin Provincial Library. My daughter loves the story card and bookmark very much. She has not only experienced the joy of sharing but also got patriotic education at the fair," Zhang said.
Mr. Wang, who had never been to the fair before, had 10 books exchanged.
He said, "Many of my books are left idle after reading. It is a pity. Now they can be exchanged here to benefit more people. Besides, many of the books I want to read are no longer available on the market. But today here at the fair I found the books I have long wanted to buy. I am very happy."
A woman holding a red trolley case at the fair was particularly noticeable.
Inside the trolley case were 30 books she wanted to donate and the books were put into different plastic bags according their categories along with a handwritten name list of the books.
Book donator Ms. Wang said, "I have too many books at home, and it's a waste to leave them at home. The book exchange fair is an opportunity to give them out so that they can benefit more people."
More than 600 teachers and students from Changchun No. 2 Experimental Middle School, Changchun University Tourism College, Jilin Water Conservancy and Electricity Vocational College, and Changchun New District Beihu Garden Kindergarten also participated in the fair.
The students said that the fair, giving"life" to old books again, improved the utilization rate of books.
This year's fair also gave out teaching materials and magazines free of charge to primary and secondary school students, which proved to be very popular among the students.
"This activity is very rewarding. I can not only find literary works here but also get free teaching materials," a student surnamed Zhang from Changchun No. 2 Experimental Middle School said, hoping to participate more in such activities in the future.
Kindergarteners were also very excited when exchanging picture books at the fair. When they got books from others, they held the books like they were treasures.